Author WordPress Themes
Disclosure: This page may contain affiliate links. If you purchase a product using one of our links, we might receive a commission. More Info.
Author WordPress Themes: Introduction
Author WordPress Themes make it easy for indie authors to have a beautifully designed professional looking author website, easily (especially once you have a killer author WordPress theme you can use).
In this post, I'll be sharing Author WordPress Themes specifically designed for author/publishers. So if you're an author/self-publisher and you're using WordPress, check out these awesome themes.
These author WordPress themes are all mobile friendly. It's very important that your author WordPress theme powered website can be seen easily on mobile devices like smartphones (iPhone, Samsung) and tablets (iPad, etc).
Not only is ensuring that those folks that visiting your site on a mobile device are seeing a site that's easy to navigate but Google now calculates "mobile friendliness" when ranking your website, so it's imperative that your Author WordPress theme is "responsive" which means mobile friendly.
Please note, these themes will only work if you're self-hosting your website with WordPress (WordPress.org), not the free or paid account that WordPress provides on WordPress.com.
A Note on Free WordPress Themes
There are thousands of free WordPress themes you can use, but to really get a theme that makes it easy to brand yourself and promote your books, you're better off paying for an Author WordPress Theme that was developed for authors. I wish I would have gone that route. It will save you time and aggravation and you can focus on writing versus learning the nuances on WordPress theme design and customization and that's why I'm writing this post. It's the post I wish I would have found when I was researching for author WordPress themes.
10 WordPress Themes for Authors
Avada – this is the theme I use for my website (as of August 26, 2016). No, it's not an "Author WordPress Theme".
I've been using this theme for about two years. It comes with a lot of bells and whistles. It's highly customizable as you can see the "out of the box" layout and my customization:
I've been using Avada for about two years. It comes with a lot of bells and whistles. It's highly customizable as you can see the "out of the box" layout and my customization below:
You can see it in action on my website by clicking here and click on the "Live Demo" button below to see everything it can do for you on Avada's site.
It was not designed for authors in mind, but I decided to include it in this list, since it's what I use and I receive inquiries via email, Facebook, and author forums about it.
It took me awhile and a lot of tweaking to get it to look like I wanted, but now you can find an author WordPress theme (like the ones I'm listing below). And to be honest, it's not the easiest theme to customize if you're not comfortable/experienced with WordPress themes, plugins, and have basic HTML coding skills and you know the basics of PHP.
Avada does make it easy to use without touching code, but to get it to look like the author websites you see online, you will need to roll up your sleeves with this theme.
In contrast, the WordPress Themes listed bellow are designed for authors, so those might be a better option versus Avada. And if you're very new to WordPress the "Basic Author WordPress Themes" at the bottom of this post, would be the best route to take. You can always change themes once you get more familiarized with WordPress.
---
StudioPress Author WordPress Theme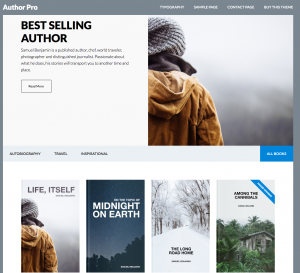 Author Theme by StudioPress – StudioPress puts out rock-solid WordPress Theme using their own Genesis Framework (one of the best frameworks for WordPress). The price includes the Author Theme and the Genesis Framework, so you'll be covered if you later on down the road you decide to use one of the many "child themes" that sit on top of the Genesis Framework or if you ever hire someone to custom design a theme for you, it will save you headaches if you hire a designer to create a "child theme" for the Genesis Framework versus having an entire WordPress theme developed from scratch.
Once installed this theme is a bit basic, so you would need to be comfortable with customizing WordPress Themes and using Plugins to make it your own or hiring a WordPress designer that knows how to work in prettying up child themes of Genesis.
Live Demo
NOTE: If you're not familiar with WordPress frameworks like Genesis and child theme then click here to download The Genesis Guide for Absolute Beginners.
---
Preface Author Theme
Preface: A WordPress Theme for Authors – this is a very beautiful looking theme by Mean Themes (an Envato/Themeforest "Elite Author"). I've had my eye on this one for awhile. I like that it's designed for authors, so unlike Avada, you won't a steep learning curve to make it look like an author's website because that is what it was designed for.
This is my favorite themes on this list. It solidly designed with authors in mind and looks good right from the install.
Preface also comes with a ready designed "books page" so you can easily display all your books and it looks very slick: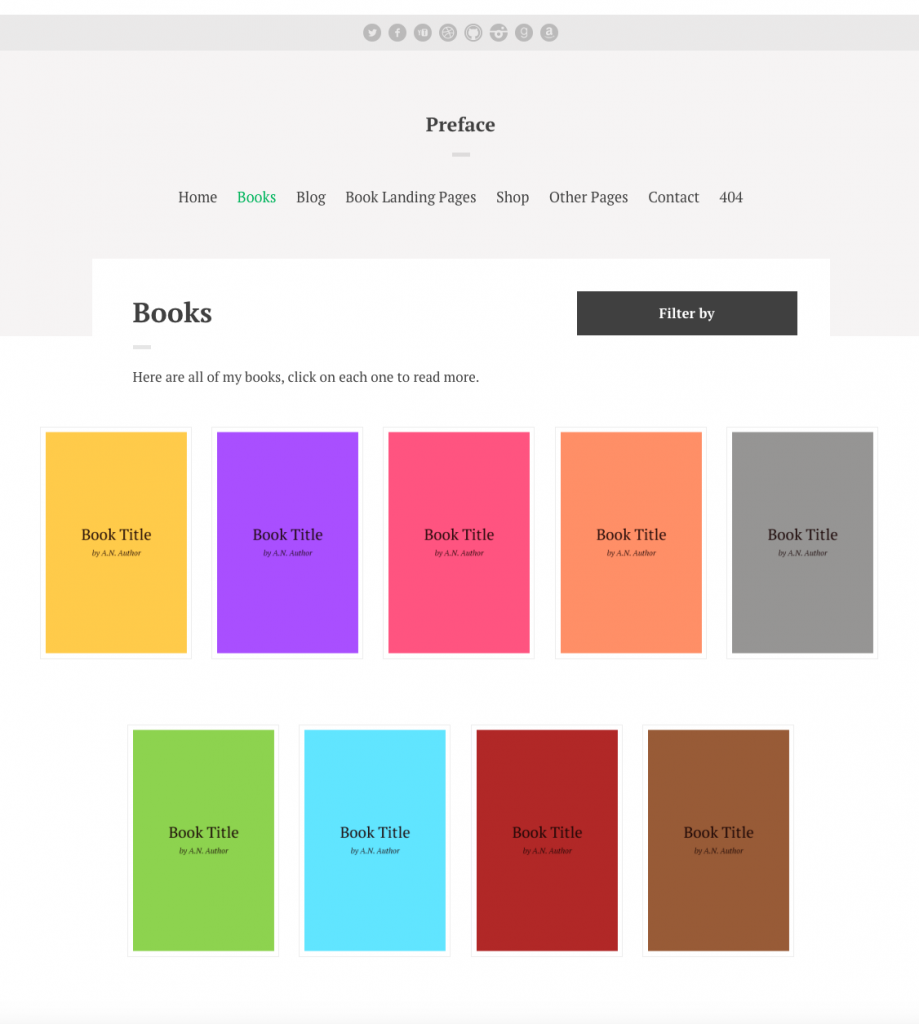 And it also comes with a landing page which you can use to send targeted traffic (for example from a Facebook ad). Excellent to offer that free book to build your mailing list.
Live Demo
---
Bookish Theme
Bookish – This is a very slick looking them that is designed using elements that are currently very popular online (wide header, large area for photographs/slides).
Live Demo
---
Brown Theme for Authors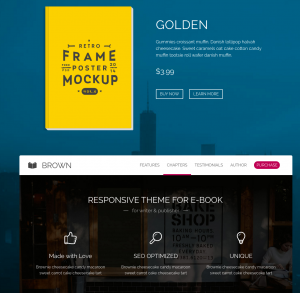 Brown – This is a very stylish theme with a one-page layout theme (also popular now days) and multi-book layout look.
Live Demo
---
Webbie Theme
Webbie – another stylish looking theme for authors.
Live Demo
---
Basic WordPress Themes
If the themes above seemed a bit too complicated or overwhelming then these the following themes should be right up your alley. The designers were going for a simplistic/minimalistic approach to these themes for authors, but they still look very nice and just like the previous themes I showed you, these were designed for authors.
---
Author Theme for WordPress
Author Theme for WordPress by Original Themes – down to earth but it has everything you need for a great looking author website.
Includes a "books" template and a landing page template.
Live Demo
---
Cadmus Theme
Cadmus – this theme has a bit more bells and whistles (single book landing page) but it's a basic, easy to use WordPress theme designed for authors.
Live Demo
---
Published Theme
Published – another WordPress Theme for Authors that easy to install and start using.
Live Demo
---
Ebook Author WordPress Theme
Ebook Author WordPress Theme – this one is designed with the wide, parallax type layout, but at its core, it's a very basic theme ready to go right from the install.
Live Demo