Disclosure: This page may contain affiliate links. If you purchase a product using one of our links, we might receive a commission. More Info.
In the video above, I'll show you how to set an Amazon Tracking ID from your Amazon Associates Account in order to determine if the emails being sent to your email list are leading to sales of your book (the one associated with specific tracking id you created with your Amazon Associate Account).
The steps below are covered in the video above (step-by-step).
Go to the Amazon Associates website and log in to your account. The Amazon Associates program is Amazon's affiliate program
.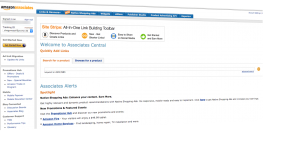 On the right-hand side you'll see the "Tracking ID" section, click on "Manage" to create your tracking id.
Click on "Add Tracking ID". It's important that you create a unique tracking id for each email you send that way you can tie back any sales to that email. You can create unlimited tracking ids with Amazon
.
Type in your Tracking ID name in the blank field. This can be whatever you want but make it easy to track like "oct10email".
That's it, now you can grab your link which Amazon provides for you with your tracking id embedded:

Copy and paste that link into the email you're sending using your email marketing software (I use Aweber, but you might be using Mail Chimp
since it's very popular with authors).
Send your email and log in back to your Amazon Associates account and go the reports section to see if folks from your mailing list picked up a copy of your book.