Disclosure: This page may contain affiliate links. If you purchase a product using one of our links, we might receive a commission. More Info.
I'm moving WordPress Site because I'm changing web hosting companies. Just like moving in real life, I was dreading making this move for the obvious reasons…
Downtime
Deadlinks
Broken Images
Manually intensive
Expensive (hiring someone to move my WordPress site)
A lot more headaches kept popping in my head
But thanks to a plugin, it was so simple. A few clicks here and there and in less than ten minutes I moved over 4,000 files for my WordPress site that was over 150BM in size! It didn't even take a couple minutes to import that 150MB WordPress site to its new. I was lickety-split, worked perfectly, and it was a complete breeze.
Moving WordPress Site Plugin
Doing my research there was one plugin that kept coming up to tackle the daunting task of moving my WordPress site.
It's called The All in one WP Migration plugin and it's fantastic. And if the WordPress site that you're moving is less than 500MB, it's free!
You can also add extensions to the plugin if you want manager your WordPress site move using Dropbox (and several other options), but I just went with the file option.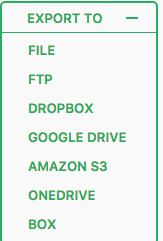 You can watch the video below as I'll show you moving my content/file heavy website for my author interview podcast WordPress site. But it's as dead simple as installing the plugin on your existing WordPress site, clicking EXPORT. Then wait for the zipped folder of your WordPress site to be downloaded to your computer. Then going to your new WordPress site. Install the plugin. Click on IMPORT and upload that zipped file. Then a few minutes (if that) for the plugin to do its thing and that's it. Moving WordPress Site, complete!
Please note, this only applies if you're using a self-hosted WordPress site on your domain (via WordPress.org), not a WordPress.com site.
Moving WordPress Site Video