Disclosure: This page may contain affiliate links. If you purchase a product using one of our links, we might receive a commission. More Info.
Google search console for beginners including integration with the Yoast SEO WordPress Plugin. These are must-have free tools for your author website. In this video tutorial, I'll walk you through the process, step-by-step with a real life and in real time example. Watch me as I explain and set up a Google Search Console account for this very website (FictiveUniverse.com) and then how I set it up to use the Yoast SEO WordPress plugin so I don't have to look at the data on Google Search Console but right here on my WordPress Dashboard.
Google Search Console for Beginners
The video is truly meant for beginners. If you're not a tech-savvy, don't worry! All you need to know is how to copy, paste, and click buttons. You can be up in running in mere minutes. Just follow my step-by-step instructions in the video.
Video Tutorial
Why is This Important?
Google Search Console is a free service offered by Google that helps you monitor and maintain your site's presence in Google Search results (source and more info). When it comes to Author websites we focus a lot on the aesthetics but forget that we need to make sure our website is visible and that it comes up when potential readers are searching for stuff on Google. Note: I realize there are other search engines, I focus on Google because it's the biggest. As an indie author, my time is limited so I need to spend it on what matters the most and when it comes to search engine marketing, Google is the one that matters the most as of March 2018.
Here is an example of what I mean.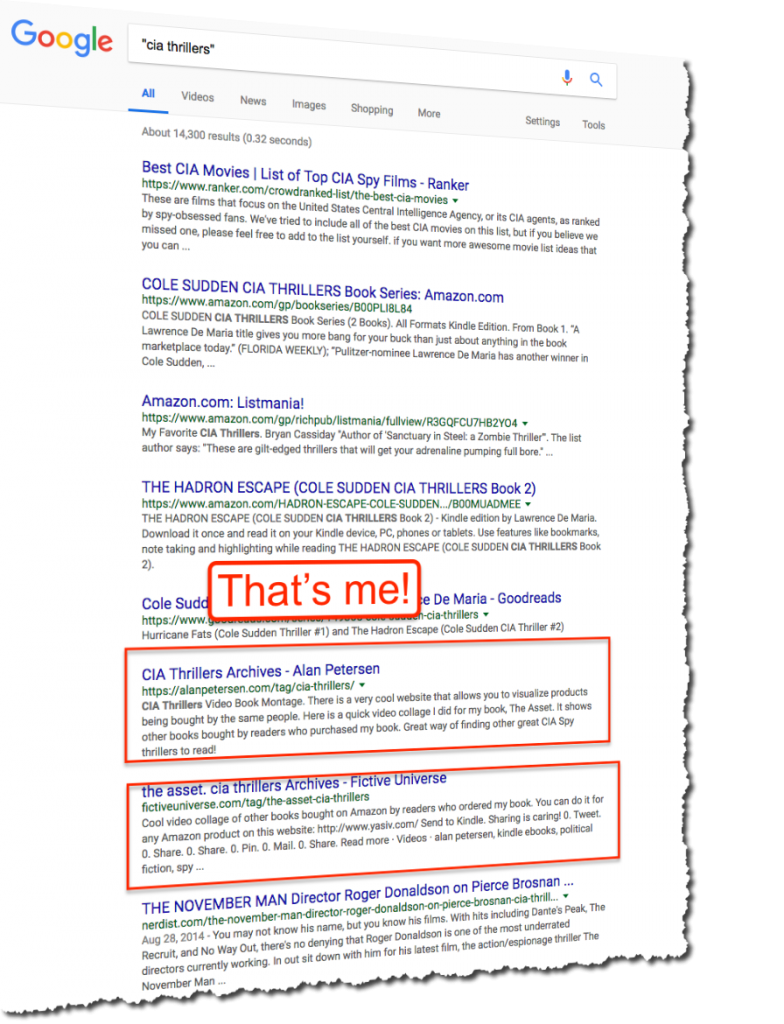 I write thrillers that feature a former CIA agent and the CIA is featured in my novels. I want fans of CIA thrillers to find my novels when they're searching for a new novel from a new author to read by typing "CIA Thrillers" in the Google search box.
Both my author website and this blog show up on page one of Google for those keywords.
By monitoring and tracking that data I can make sure to stay on top of it. Google Search Console and the Yoast SEO WordPress plugin help me with that and they're both free tools! Yoas SEO does have a Premium Plugin but so far I've just been using the free version of the plugin.