Disclosure: This page may contain affiliate links. If you purchase a product using one of our links, we might receive a commission. More Info.
How to Embed Amazon Book Previews into your website.
Amazon has included a new feature that allows to embed Amazon book preview for your book right into your website. And all you need to do is copy and paste the code that Amazon generates for you. Here is what I'm talking about (this example is from my book, I just copied and pasted the code there):
Video Tutorial on How to Embed Amazon Book Previews into Your Website
Here is a video showing you how to Embed Amazon Book Previews (like I above) onto your own website:
This works easily with WordPress, just create a new post or page and copy the code into your editor and that's it! If you don't use WordPress, you can still embed Amazon Book Previews easily, as long as you can copy and paste the HTML code Amazon generates for you, so you don't need WordPress to do this.
Where Do I Get the Code?
The easiest way is to go to your book's Amazon page. Off to the right, in the area below the order button, you'll she the <Embed> link: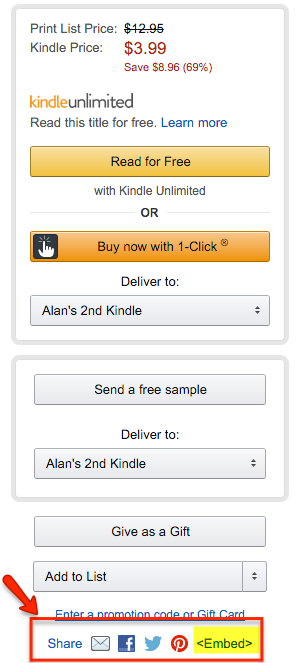 Once you click on the "Embed" link, Amazon will generate the code for you. You will also have the option to add  your own Amazon affiliate ID or a Tracking ID so you not only track results but also earn a commission from Amazon for any sales.
Click to enlarge:
You don't have to add your Amazon Tracking ID, but I would highly recommend it, that way you can track results from your Amazon Affiliate Account and maybe even earn a commission in the process.
Once you add your tracking id, you can select the size of the preview (they have three size choices, plus a custom choice so you can enter whatever size you want), you can choose if you want the book preview to display in the page or on a new tab (I selected in the page in the example above), and you can choose to hide the Amazon buy button (not sure why you would want to remove that).
And that's it, you can embed Amazon book previews anywhere you want on your website: