Disclosure: This page may contain affiliate links. If you purchase a product using one of our links, we might receive a commission. More Info.
Writing cozy mysteries update: I'm excited to share this update on my October writing challenge to write the fifth book in my cozy mystery series on the 31 days of October.
Challenge met! The first draft is complete. I wrote over 40,000 words in 17 days, so I completed the challenge with 14 days to spare.
I wrote every day during those 17 days, averaging 2,354 words per day. I had a couple 5K word days which leave me feeling wiped out in the evening, but it's a great feeling.
You can see the screenshot from Pacemaker Project Tracker below. I found Pacemaker to be a wonderful tool to track my writing in a fun way that kept me motivated daily.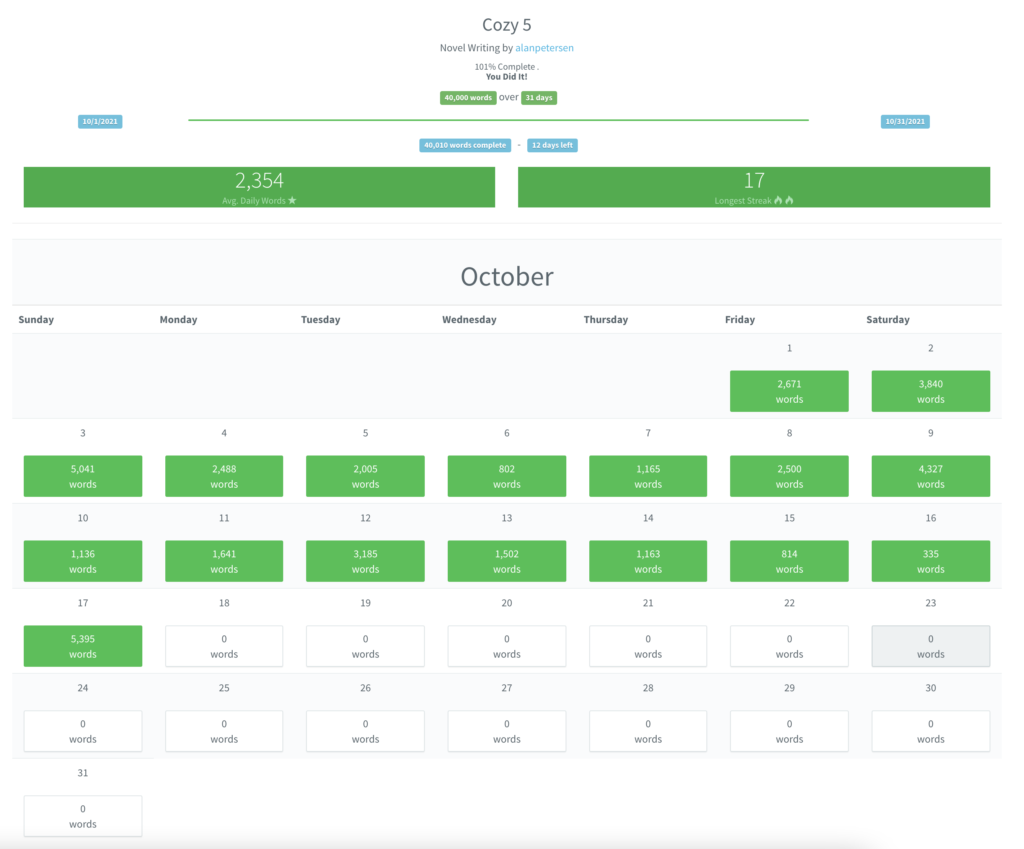 You can watch the video for the latest update on writing cozy mysteries…
What's Next?
Completing the first draft in 17 days is great, but I still have a lot of work to do. Here is what's next as I prepare to self-publish this book.
I'm letting the first draft sit for 3-4 days before I dive back in reading it and making revisions as necessary.
I just booked my copy editor for November, so I have around ten days to polish up the manuscript. Once that's done, I'll run the manuscript through ProWritingAid to clean up the manuscript as best as I can before sending it to my editor.
Once the copy editing stage is complete, I'll book a proofreader for a final grammar check before I publish it. My plan to publish this book by December 31 (at the latest) is still on track.
Once I get the manuscript back from the editor, I'll probably set the book up for pre-order on Amazon in mid to late November.
Stay tuned for more updates about this project and on writing cozy mysteries in general.