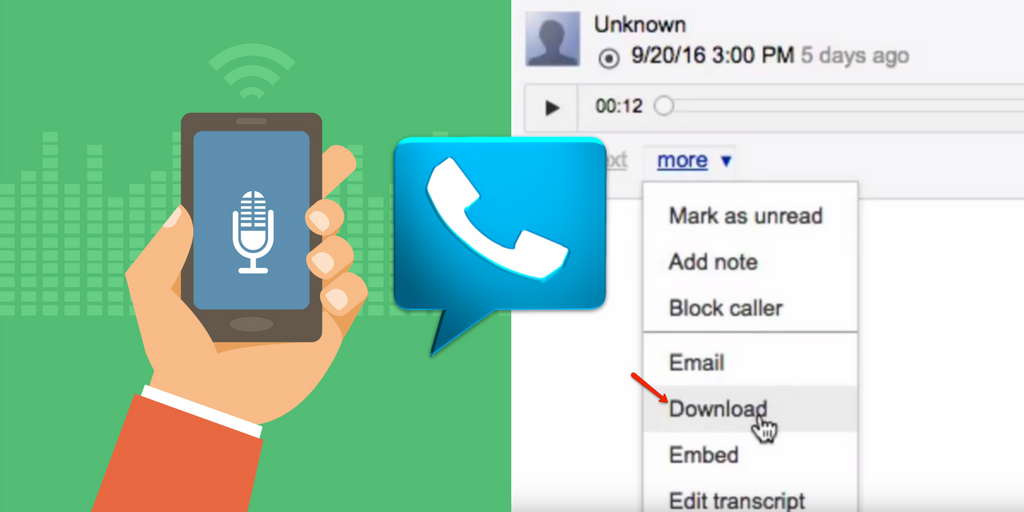 Disclosure: This page may contain affiliate links. If you purchase a product using one of our links, we might receive a commission. More Info.
Google Voice Call Recording for Podcast Interviews
Google voice call recording is an easy and free way to record calls for interview guests who don't have or don't want to use Skype.
All you need is a free Google Voice phone number. Ask the interviewee to call that Google Voice number. Answer the call, to start recording, press 4 at any time to start the recording. Press 4 to stop the recording or just hang up.
Then go to your Google Voice in-box and you'll find the recording:
From there you just click on the "more" link to download the audio file of the recorded Google Voice call.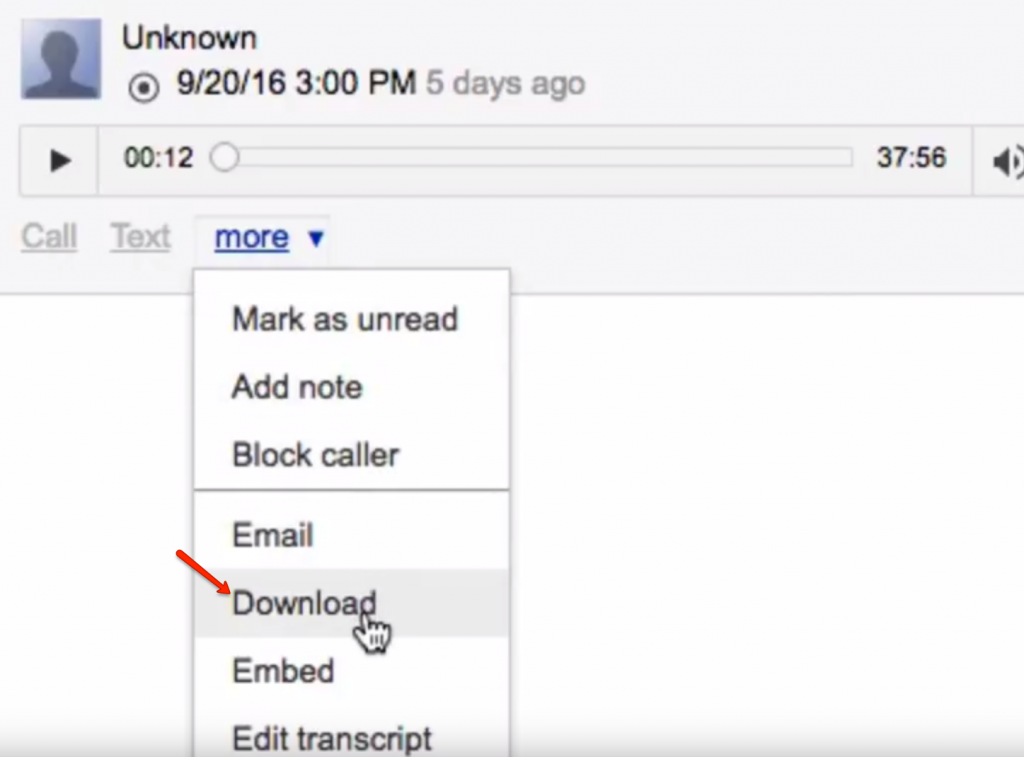 Why Google Voice Call Recording?
My preferred method for recording calls for my podcast is Skype, but several of my guests don't have a Skype account and they don't want to setup a Skype account even though it's free. So my second option was Google Hangouts on Air (which is no longer an option, it's been moved directly to YouTube and I have not tried since it moved).
But again, I had guests requesting to do the interview via telephone. And if they're being kind enough to give up 30-45 minutes of their valuable time by agreeing to the interview, I don't want them to feel uncomfortable or have them go through hoops like opening a Skype account or using something that is very user-friendly like Google Hangouts on Air was. But the problem, on my end, was that I don't have a landline. I haven't had one for over a decade so I can't use my good old Radio Shack Call Recorder and my Olympus Digital Recorder
.
I was trying to figure out how to record incoming calls from my iPhone. I looked at several call recording apps — I even tested a couple of them — but they weren't that good and some were very intrusive on the data they collect. That's when I decided to look into my Google Voice Phone Number. I've it for years.
If you're not familiar with Google Voice, it's a telephony service that provides call forwarding and voicemail services, voice and text messaging, as well as a few other things. But I was excited to find out that Google makes it very easy to record incoming calls. I already have my Google Voice number forwarded to my iPhone, so I figured that it should work.
I did a quick test run with a friend and I was happy with how easy it was to record the call and download the audio file, so I was off to the horses.
I've now recorded four interviews for my "Meet the Thriller Author" podcast using Google Voice. That would have been four great guests I might not have been able to book if I didn't have a way for them to call in via telephone.
Google Voice Call Recording and Importing Audio File (Video Demo)
In this video, I show you how to record a call using Google Voice, how to download the MP3 file, and how to import it into Audacity for editing.
Cons of Google Voice Call Recording
The one drawback is that Google Voice Call Recording generates an MP3 file. I would prefer a higher quality audio file like an AIFF. So the audio quality won't be as good as the interviews I record on the computer using my Blue Yeti microphone
and the Audio Hijack software that I use to record my Skype interviews.
But the quality is not bad at all. It's what you would expect from a phone recorded call that you might listen on the radio or on television. And since it's already in an MP3 file format you're pretty much ready to upload that bad boy to your podcast (I do recommend you edit your recording to take out awkward pauses and the umms and ahhs, and use something like the The Levelator to fix up the audio quality before publishing).
You can listen to this podcast episode of my "Meet the Thriller Author" podcast which was recorded using Google Voice forwarded to my iPhone 7. I used Audacity (which is free) to edit the audio file and The Levelator (also free) to level out the audio.