Disclosure: This page may contain affiliate links. If you purchase a product using one of our links, we might receive a commission. More Info.
I was fascinated to read David Gaughran's (one of the good guys trying to help authors from getting ripped off) piece on the popular Canadian book festival called "Word on the Street". Over 200,000 readers attend this festival of books and reading, so you bet your bottom dollar that is a very popular event for book publishers, distributors, and authors.
Like in most conferences/conventions the event organizers have booths for vendors to peddle their wares. Author Solutions which is an infamous "self publishing" company with a reputation for preying on desperate and naive authors, has a booth at the festival. David Gaughran argues (I agree) that they should be banned from events like these were they can take advantage of authors. David even contacted the festival organizer and they basically blew him off with a buyer beware type of warning and we can't be expected to police vendors. Basically, it's the writers fault for getting ripped off.
The source of outrage is that Author Solutions is charging their authors around $450 to have them place their book in a "new title showcase" that readers usually won't even notice. But it get worse, for approximate $4,500 (fees quoted in pounds: £2,999), an author can show up at the festival for a "book signing". They get an hour slotted at their booth so the author can promote his/her book. This doesn't include airfare to the event, hotel, and all that good stuff. It's $4,500 for the author to sit at their booth with some copies of their book to sign/sell, and that's it.
That really struck me as just an obscene amount to charge. For $4,500 a self published author could do so much to really market the hell out of their book on sites like Amazon where they could actually sell a lot of copies, grow their brand, increase visibility, etc. It would be very doubtful they could accomplish that during their allotted hour at the booth. It's tossing money out the window when they could get really some traction by spending $4,500 wisely to market their book.
I was curious how much the booth cost, so I did some searching and I found Word on the Street Festival's exhibitor price list: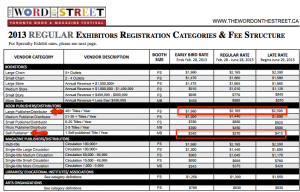 As you can see, the cost of a booth at the Word on the Street Festival for a "large distributor/publisher" ranges from $1,960 to $2,390 (depending on the registration date). It's safe to say Author Solutions is a large "publisher" so they're paying anywhere from $1,960 to $2,390 for their booth.
They're in turn charging their author's $450 to "showcase" their book somewhere around their booth, plus $4,500 so an author can sit at their booth for an hour to promote their book in person. According to Author Solution's press release 36 authors signed up for that "service" and around 300 client books are in their "showcase".
According to that information, they're going to gross around $297,000 from the Word on the Street Festival alone! That's one heck of an ROI for Author Solutions on the backs of the uninformed author.
Get your own booth
The cruel irony? If you look at the price list, you'll see the festival is providing booths for self published authors. The same author that is paying Author Solutions $4,500 for an hour at their booth, could have setup their own damn booth at the same festival for $340-$415 (price varies for one title and depending on registration date). And that's for the whole festival, not just an hour.
The self publishing revolution has opened the door for a lot of scammers to take advantage on ill-informed writers, so writers need to be very careful how they spend their money. If they would get their own booth directly from the Word on the Street organizer's for just $340 or even $415 for late registration, then pay for wholesale copies of their books, airfare/transportation costs, hotel, food, etc. they wouldn't come close to spending $4,500 for the entire festival versus wasting that money for just an hour of booth time.
This is a prefect example how self published authors are being taken advantage by paying exorbitant amounts of money that won't lead to significant book sales or visibility. They're just getting ripped off by unscrupulous companies and it's a shame that legit organizations like Word on the Street is letting it happen (see David's post for their response to his warning about Author Solutions).
It's buyer beware out there, so be careful, and do your diligence or you will get ripped off.